Dr. Jamal De Vita of De Vita Chiropractic and licensed massage therapist, Sam Farnsworth, offer our views on the complementary and therapeutic benefits of these treatment modalities. Jamal and Sam have worked collaboratively over the past year providing preventative and injury care while expanding their clients' self-care options.
More than a few people have asked us: "When should I see a chiropractor and when should I see a massage therapist?" This is a legitimate question that can have a number of answers. You might think that if a muscle is sore, tight or painful that massage would be the immediate answer or that if you wake up with a tight neck or have a sore back that chiropractic is obviously the right answer. We are going to trot out a common medical answer: it depends (but let me add, see someone immediately if you are in pain).
But what does it depend on?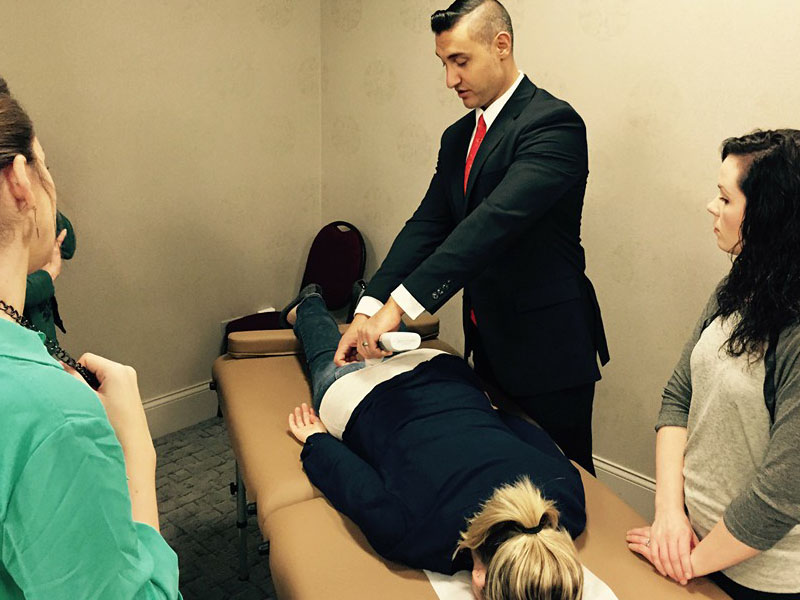 Personal Preference
If you think you are going to have more success with one treatment modality than the other, try that one first. The power of the mind to create a positive outcome cannot be overstated. Positive expectations and positive thinking may be the best predictor of a positive outcome in healthcare.
Structural versus Muscular
The most obvious distinction can be made when we look at skeletal/ligament issues versus muscle/tendon issues. By design, chiropractic addresses structure, with the majority of treatment delivered to bone or joints. Massage will only affect soft tissue. However, stretching done in conjunction with both can affect more tissue and range of motion.
Range of Movement
Both modes of treatment can help with range of movement, as massage affects tissue that crosses joints and chiropractic directly affects joint mobility.
Movement Direction
The joints connecting the appendages to the body and within the appendages respond well to massage in many cases – particularly for hip rotation (turn leg in or out). But massage can have less of an effect on hips that are tilted forward or backward – chiropractic can be much more effective for resolving this. This is an example of the complexities in choosing one mode of treatment over another.
Specific Anatomy
Other examples become apparent as we look closer at the back. The back is composed of three parts, so how about three different answers??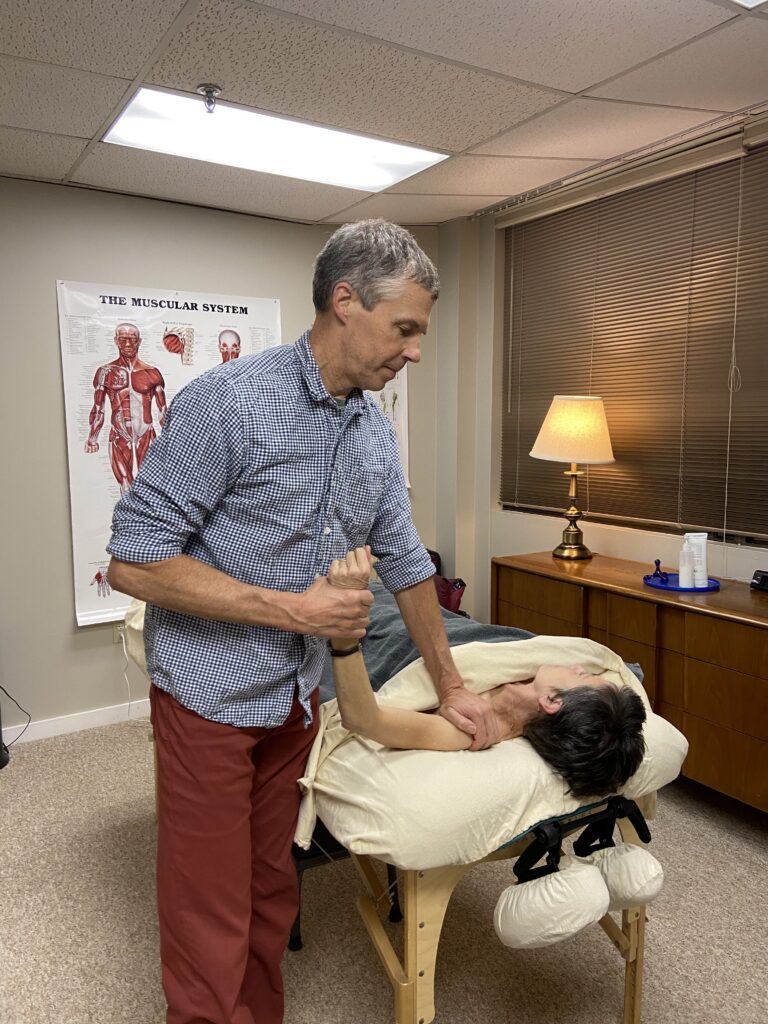 The low back is very sturdy and moves easily from front to back. Massage can be very effective to ease low back pain, reduce stiffness and resolve deep muscular imbalances (QL and psoas). However, the low back connects to the hips at the SI joints. These can be the source of significant pain and may often be best treated through chiropractic.
The mid back can rotate side to side but is less mobile overall. This is due to the rib attachments. In this part of the body, chiropractic is generally the most effective treatment for discomfort along the spine. That said, both chiropractic and massage can help with mobility in this area: massage by opening muscles between the ribs and chiropractic for structural change.
For neck issues, chiropractic and massage can be equally effective. However, this can be a sensitive area for treatment and individuals may prefer one mode of treatment over another.
Other Considerations
Timing your massage and chiropractic treatment can make both more effective. A massage a day or so prior to a chiropractic adjustment can help the structural adjustment hold longer, while the adjustment can help the lengthened muscles stay relaxed longer.
But the best answer to "when should I see a chiropractor and when should I see a massage therapist?" comes from Dr. De Vita: just go see someone. Start the process to recovery and work with a professional to help sort the issues.
Both Jamal and Sam practice what they preach. Outside of their practices, Jamal is a CrossFit Level One Trainer at Powdermill CrossFit, where you can find him most days of the week. Sam is a dedicated ultramarathoner out on the trails early in the morning. When not at work or staying fit, they receive bodywork from each other to keep moving!
De Vita Chiropractic and Sam Farnsworth LMT go hand in hand.
De Vita Chiropractic
179 Great Road Suite 107
Acton MA 01720
Sam Farnsworth LMT
97 Lowell Road
Concord MA 01742